A Support Center is a crucial part of any business, and it's important to have a team that can serve customers quickly and provides them with the best customer experience. AI can be used to automate the process of answering customer queries and providing them with the best possible service. Furthermore, if it's built using cloud-native technologies to implement a cloud contact center.
AI has been around for decades, but it has only recently made its way into the support center. The use of AI in this environment is still in its infancy, but it does have some interesting use cases. Also, we can help so you don't need expert staff to design, implement and manage solutions.
Furthermore, we can help you implement a comprehensive solution in days and not in months. And you won't need to purchase additional hardware nor to pay for licenses. You can grow as much as you need and everything is fully managed in the cloud.
Introduction: Why do Contact Centers Matter?
Call centers are the lifeblood of any company. They provide customer service and support, and they are the first point of contact for customers. Customers who have a positive customer experience are more likely to buy from that company again in the future.
According to the Twilio State of Customer Engagement Report customers have higher expectations. They want a digital-first experience to interact with on-demand digital experiences dialy. Also, Self-Service wheere they require immediate access to the right information when they want it.
Privacy is also an important factor for customers, so they can control over their digital identity, touchpoints and interactions.
When Do I Need a Contact Center?
A contact center is a place where customers can reach out to the company for support. It is an essential part of any business, no matter how small or big it is.
Call centers have been around for some time now. They are usually associated with customer service or technical support services. Contact centers are also known as contact points, customer service points, customer care points, and so on.
Contact centers are not just about answering calls and providing customer service. They are also responsible for the following: – routing incoming calls to the right department or individual; – recording call details; – providing information about products and services; – resolving complaints, and so on.
What is the Best Size for my Contact Center? Why Choose This Size and not Different Sizes?
The issue with traditional contact center solutions is that the Return on Investment (ROI) could take months or years. So, it was necessary to prepare an entire project only to implement the hardware, and later we need to consider the operations, maintenance, and everything else! Really it was a headache for any company.
Simply put, existing solutions in the marketplace couldn't meet customers' expectations.
With a cloud-based solution, any company can afford to have a call center. Furthermore, you can integrate a remote team to manage your customer experience and even outsource to agents worldwide so you can provide multilingual support.
Amazon Connect is an easy-to-use, cloud-based contact center solution that scales to support businesses of any size. It integrates tools that grow with your needs like:
Skills-based routing.
Call recording.
Real-time and historical analytics.
High-quality voice capability.
The best thing about the solution is that you'll be able to use it in minutes and not months. You can count with our expert support to design a solution according to your needs.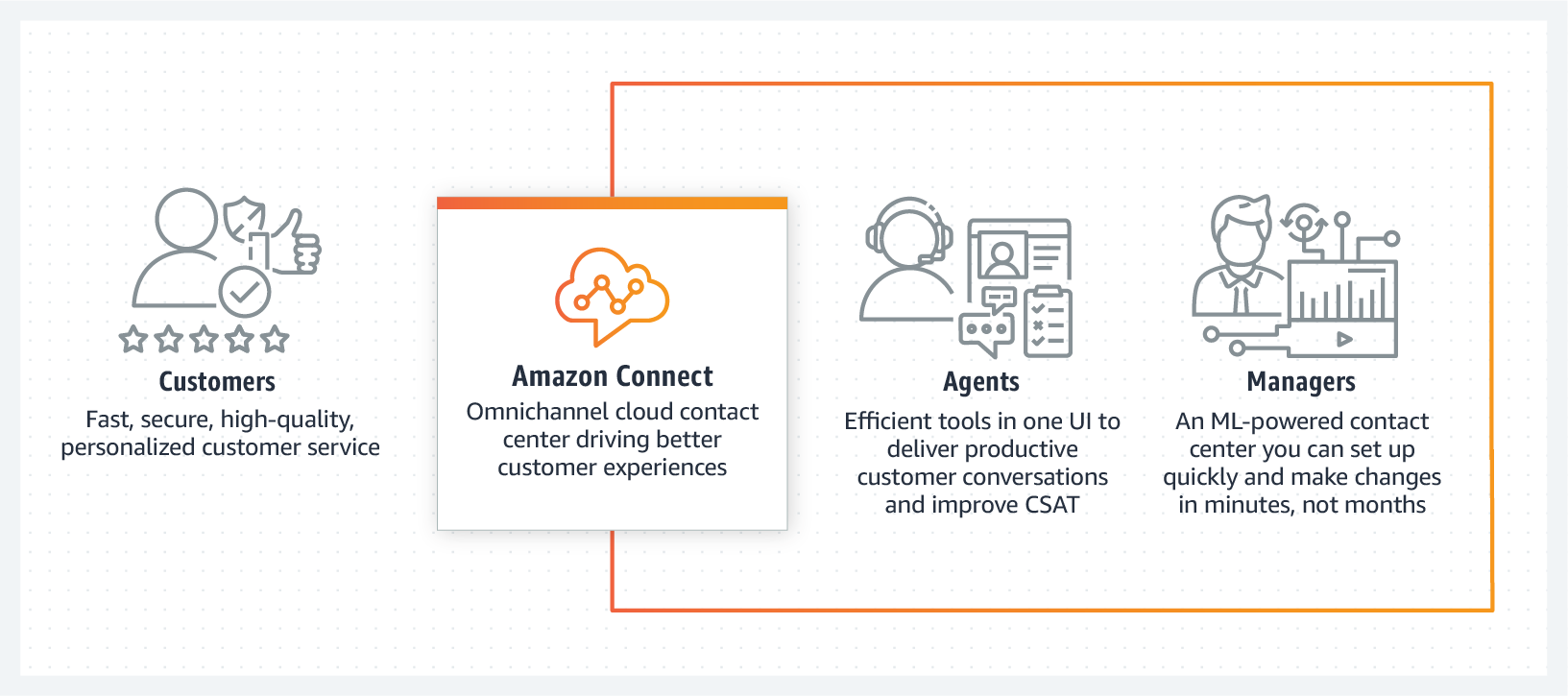 How can I afford a Contact Center?
The best thing about Connect is that includes a Free-Tier that will save your business a ton of money.
For the first 12 months of your initial Amazon Connect cloud contact center deployment in any region, you receive:
90 minutes per month of Amazon Connect service usage
A direct inward dial (DID) number from the country in which the AWS region is located
30 minutes per month of inbound DID calls
30 minutes per month of outbound calls made to numbers in the country in which the AWS region is located
For US regions, you also receive:
One US toll-free number
30 minutes per month of inbound toll-free calls made from the US
Other Amazon Connect capabilities also part of the Free Tier during your first year include:
500 messages per month with Chat
100 tasks per month with Tasks
1,000 profiles per month with Customer Profiles
90 minutes per month for audio calls with Contact Lens
180 transactions per month with Voice ID
The 4 Steps to Start using AWS Connect.
To start using the solution you have a single console to manage users, design/edit your IVR and contact flows, claim phone numbers, retrieve real-time and historical metrics, and contact activity (AKA Contact Trace Records).
Define the architecture of the solution. It can be as simple as to provide voice responses to our customers or more comprehensive to use AI, personalization or SMS interactions.
Create the instance in the AWS Cloud to manage Connect. This is done automatically once you're in the console you only need to start an instance to manage the service. Also, in this stage you need to pick a number in the country of your business.
Create a contact flow, which defines the customer experience with your contact center from start to finish. Amazon Connect includes a set of default contact flows so you can quickly set up and run a contact center. However, you may want to create custom contact flows for your specific scenario.
Include the credentials for your agents and supervisors so they can start interacting with your customers right away. They will have their own portal and interface to manage the requests from your customers.
Later, you'll be able to analyze all the data with services like Amazon Quicksight and even add AI functionality with Lambda or LexBots.
Conclusion: Building and Maintaining Your Own Call Center
What once was a service only affordable for big corporations now it's available for all types of businesses. It doesn't matter if you're a health provider or an e-commerce store you can implement a call center to provide superb experiences to your customers and gain their loyalty.
If you'd like to get a free consultation don't hesitate to contact us! We'll be happy to help and support your business.
For more information contact us at info@origo.ec